"Discover the Allentown Personal Trainer that Helps You Lose Bodyfat and Build Muscle In Just 3 Hours Per Week"
WorkoutEngine Allentown, the Lehigh Valley's Number One Fitness and Fat Loss Workout Program Designed to Burn Fat and Get You In the Best Shape of Your Life. Results Guaranteed.
At one point my weight ballooned to nearly 290 pounds and I felt terrible.
I saw a picture of me holding my first child in the hospital, and I couldn't believe how fat I looked… that's what led me to make a change.
I realized I needed the guidance of an experienced coach, and I couldn't do this alone.
Enter Coach Joseph Arangio and WorkoutEngine Allentown. On my first meeting with Coach Joe, on November 23, 2010, I weighed almost 275 pounds and my bodyfat was 29%.
By May of 2011 I was under 225 pounds.
Unfortunately I gradually got away from the system, started working a lot, making excuses:
"I work all the time."
"I have kids at home."
"I want to hang out with my buddies."
… next thing you know it's January 2013 I was 270 pounds again! I couldn't believe how fast I got back to where I hated to be.
Once again, something triggered in my head and made me get back on board. Although it has never been smooth sailing, I am on my way back down, and I weigh under 210 pounds today. My long term goal is to continue on the path and achieve my healthy ideal weight.
So here are a few "Golden Rules" I've learned on my journey to getting healthy:
1. Life is a marathon, not a sprint. Although results can happen quickly, there is no race. The idea isn't to sprint to the finish line, so you can go back to old habits. There is no "finish line" because my struggle will continue every day. It's a lifestyle change, not a quick-fix "diet."
2. Eat smaller meals more often. Eat 5-6 meals, eat every 2-3 hours.
3. Eat immediately when you wake up, and drink water.
4. Eat just before and immediately after workouts, so you feel good for the workout and give your body more fuel after a workout.
5. Improve sleeping conditions. I don't sleep on the sofa, I don't drink a lot right before bed (learned this from my kids, so I don't have to wake up in the middle of the night, and have a hard time going back to sleep)… don't have caffeine late in the day, so I can sleep better through the night.
6. Schedule workout times and stick to the schedule. This structure keeps you on a routine so your body adjusts and gets acclimated to the times.
7. Work with an experienced coach. A smart coach provides a proven plan, that is science-based, and gets results. This helps me eliminate wasted time thinking about "what should I do?" I just show up, follow the plan, and work out intensely.
8. Eat fresh foods. Choose lean meats, fish, and vegetables… avoid breads, sugars and pastas.
9. Surround yourself with people who are positive influences in your life.
10. Remove yourself from "toxic" situations…
11. If you do make a mistake, it happens, realize we are not perfect. Recognize the wrongs and correct immediately. i.e. If I do go out and drink, eat some bad food, don't wait until "Monday" to start again. Start the very next meal, get right back on the plan and you will minimize the impact of a bad decision.
Of course life has challenges and obstacles. I have struggled with owning a business… working 90+ hours/week… having three young children.
12. Prioritize your life and you will see what is important and what is not.
13. You must take care of yourself first, so you can take care of those who are important to you. Your personal health should be at the top of any list, because if you are not healthy you will not be able to do any of the following efficiently: work, make money, care for family, etc.
14. Figure out the things that are the problems, identify them, and make the appropriate changes. For me, drinking was at the core of many of these bad decisions. When I drink, I drink too much, usually eat food that is high in calories, feel like crap, wake up late the next morning, crave more greasy food, don't feel like working out, etc. Not to mention acting like a fool and all the other consequences of drinking.
15. Have a good support group. My amazing wife prepares healthy food for the whole family and makes it easy for me to eat the same way she does. I have to choose NOT to be healthy.
16. Have a clear understanding of what you DON'T like about being overfat: how you look, not being able to physically do things you want, out of breath walking up stairs, difficult to play with your kids, tie your shoes, etc.
Remember the embarrassed feeling when people make jokes about your weight, the bad feeling you have when you see a fat picture of yourself. Use these uncomfortable feelings as motivation to take action and make a change so you NEVER feel that way again.
- Fran Volpe
What Is WorkoutEngine Allentown?
WorkoutEngine Allentown is a results-driven and energetic fitness and fat loss workout program that includes motivation, accountability and dynamic resistance training; all designed to get you the body that you want in a safe, fun and non-intimidating atmosphere.
Every workout session is led by an experienced, certified Allentown personal trainer and is designed to be fun, supportive and challenging, while burning maximum fat, in minimum time. Personalization is key to getting the best possible results, which is why our workout programs are modified to fit your goals and individual fitness level.
But unlike working one-on-one with a personal trainer, our workout programs are done in a team setting which makes them fun, motivating, challenging AND it keeps the program tuition affordable compared to private one-on-one personal training sessions.
Who are Joseph and Sharon Arangio?
Want our help with your nutrition and fitness goals? Coaches Joe and Sharon Arangio work with a small group of men and women personally.
Over the course of 12 months together, we help you get into the best shape of your life and stay that way for good.
Since 1996, through our coaching programs, our in-house coaches have delivered over 100,000 workouts to help clients lose bodyfat and lead healthier lives.
We approach coaching by listening to your needs and what you want to accomplish, learning how you live, discovering what's really important to you, and working together to create the right nutrition and exercise approach based on your goals and lifestyle.
Then we coach you through the process, helping with the inevitable roadblocks along the way to success.
We make fitness work for you. Not the other way around. So fitness becomes an easy and enjoyable part of your life. For the rest of your life.
Each workout is part of your personalized training plan, designed to get you in the best possible shape for your goals.
The best part? Every rep, set, weight, and movement is laid out for you, under the watchful eyes of an experienced coach.
And if you're serious about stripping off bodyfat, you must make time for proper nutrition too. Simply put, nutrition is the single most important thing if your goal is fat loss. Good news is we provide a step-by-step nutrition blueprint for you.
When you combine smart training, portion-controlled nutrition, a positive mindset, and a good night's sleep... you get results.
But no matter how large or how small the endeavor, you still have to begin with a single action. You don't have to have it all figured out.
Simply take the first step.
WorkoutEngine Allentown's Proven Body-Transformation System Will Help You Shed Unwanted BodyFat in Just 3 Hours Per Week. Our World-Class Fitness Coaches Will Guide You Every Step of the Way and Teach You:
7 exercises that boost your metabolism
Sneaky sleep hacks for optimal recovery
The best exercises to drop bodyfat
Proven nutrition techniques to shed bodyfat
3 foods you must NEVER eat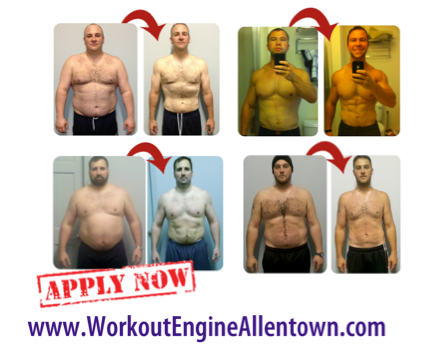 ---

---

---

---

---

---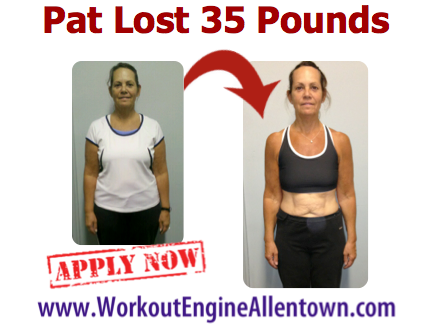 ---

---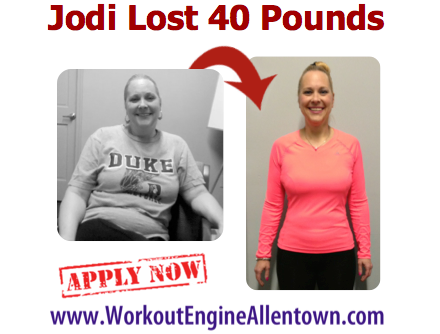 You will have the opportunity to train with up to eleven other people who share your same goals and aspirations. Each program is designed and customized to meet your individual needs within the team session.
You can have us match you up with other people or you can start your own team session with your friends and family.
Member's-Only Benefits:
Body Diagnostic Session
Easy-to-Follow Nutrition Guide
Custom-Tailored Training Program
Team Coaching Sessions
Weekly Accountability Check-Ins
World-Class Coaching
Guaranteed Results
Help-a-Friend-Get-Healthy Program... When your friend joins, we pay your tuition for one month!
You get UNLIMITED personal training at your selected location and time.
And that includes everything. Tuition starts at just $519 $99 per week.
Yes, that's not a typo or some gimmick.
ONLY $99 per week for UNLIMITED personal training and fitness coaching!

90-Day Money-Back Guarantee
Simply put, we guarantee your results.
If you are unsatisfied with your progress after 90 days, we will refund 100% of your tuition. That's how much we believe in our body-transformation system.
All we ask is that you follow these five rules:
1. You will give the program an honest try.
2. You will complete at least FOUR workouts per week with us, over 90 consecutive days.
3. You will follow the custom-tailored nutrition plan and get quality sleep.
4. You agree to keep a daily journal.
5. You will not cheat us.
Fair enough?
Coach Joe
==
Joseph Arangio, MS, CSCS
Director, WorkoutEngine Allentown

FREE BODY DIAGNOSTIC SESSION + FREE DISCOVERY CALL APPLICATION
Only Test-Drive This Risk-Free Offer If You Meet These FIVE Requirements:
Requirement #1: You will give the program an honest try. Click away right now if you're a "know-it-all" or "seen-it-all" type... I am looking for action takers who possess the focus and determination to give it your best effort. If you are prepared to take advantage of this exclusive personal training program and give an honest effort during every single workout, then this decision will change your life. Truth is, it doesn't matter how good my body-transformation system is if you don't believe in it and do the work yourself. If you meet this requirement, keep reading.
Requirement #2: You will complete at least FOUR workouts per week with us. Think of a training session like it's an urgent meeting that you absolutely, positively WILL NOT miss. If you perform the workouts, your body will change—it has no choice. There are 168 hours in a week. Is a lean, healthy, athletic body worth an investment of less than 2% of your entire week? Most people spend at least THREE hours per DAY getting soft in front of the TV. If this sounds familiar, you have a once-in-a-lifetime opportunity to break the cycle of laziness and change your behavior NOW. Keep reading if you meet this requirement.
Requirement #3: You will follow the custom-tailored nutrition plan and get quality sleep. The formula for fat loss or muscle gain is shockingly simple. No magical pills or powders here… just fresh, wholesome food, plenty of water, and a good night's sleep (every night). We will give you the EXACT step-by-step nutrition and recovery blueprint to help you meet your body-transformation goals. Just follow the plan.
Requirement #4: You will do your homework on time. In other words, you agree to keep a daily journal (your homework). Simply document what you eat and drink, how much sleep you get, and how you feel. If you can't do this for 90 days straight, this program is NOT for you.
Requirement #5: You will not cheat us. I understand not everyone is honest and some people lack integrity. Just realize that all of the hands-on expert coaching you will receive over the next 12 weeks costs me time I could be spending with my family and money that could be donated to charity. So if you're already thinking about cancelling before you fill out the application below, PLEASE, PLEASE leave your spot for someone truly serious, committed, and bringing a positive attitude.

---
Once I implemented Coach Joe's proven fat-loss strategies, I saw an instant decrease in my belly fat.

Dr. Shawn M. Quinn, D.O.

Lehigh Valley Physician Group - Emergency Medicine Lehigh Valley, Pennsylvania, USA
(See You On the Next Page!)
WorkoutEngine Allentown
The Lehigh Valley's World-Class Body Transformation Facility Is Located at:
725 North 15th Street | Allentown, PA 18102