"How to Quickly Lose Fat and Inches with an Affordable and Revolutionary SYSTEM for
Getting Leaner and Stronger in Just 14 Days

"
If you want a no-nonsense "crash course" in losing fat, adding muscle, and getting healthy... eating foods you love... and doing workouts you actually enjoy... then you want to read this letter.
From the Desk of Joseph Arangio
- Allentown, Pennsylvania, USA

Dear Future Success Story,
How would you like to finally get the lean physique you desire and deserve?
And imagine, in just two weeks from now, seeing progress in the mirror and in the gym.
What I'm about to share with you will change the way you think, exercise, eat, sleep, and manage your stress. I urge you to grab a cool drink of water, get comfortable, and STUDY this letter -- it IS that important.
If you are reading this, you've been invited to join the 14-Day Fat Flush Program.
But in order to participate, you must have at least 10 pounds of bodyfat to lose.
Please read this entire page, answer all questions, and submit your application today.
If we can accept you into the program, we will review everything before you begin.
But first, I want to share a story about faith and courage.
My wife, Sharon, and I want to help Pediatric Cancer Foundation of the Lehigh Valley, Inc.
Very close friends of ours, Cezanne and Chris Brianas, have a four-year-old daughter, Melania, who is a cancer survivor.
As you can imagine, it was a terrible struggle with many tough days.
Melania is friends with our daughter, Giavanna, who is the same age, so this really hit home.
In honor of Melania, we will donate $100 from your membership tuition, from now until Wednesday, November 1, 2017, to support Pediatric Cancer Foundation of the Lehigh Valley, Inc.
Take a few moments to learn about Melania's courageous journey here.
Please read, share, and donate if you can. PCFLV is dedicated to providing a loving community of support and services to families whose lives have been forever changed by these words...
Melania's Story - Diagnosis
By Cezanne Brianas — May 29, 2012 6:22pm
Our initial hospital stay was 13 days. We got to leave early because Melania was doing so well. In 13 days, poor Melania went through so much. Melania was diagnosed with ALL, Acute Lymphoblastic Leukemia after a bone marrow biopsy. She had two spinal taps to test her spinal fluid and introduce chemotherapy into her spine. She had two unsuccessful procedure days. Canceled surgery because she spiked a fever and then an unsuccessful attempt to place a PICC line (peripherally inserted central catheter). But, then there were successes. A port was placed to make chemotherapy and blood draws easier. She will have this for the duration of treatment (3 years) given it doesn't get infected. It's under the skin of her upper left chest wall. She got chemo IV three times during this stay too. One infusion is at risk for severe (even fatal) reaction. But, Melania did great with it. Her hemoglobin dropped a little too much and she had to have a blood transfusion too, but she did well.
We were so happy to come home to our own beds. We'll see how it goes!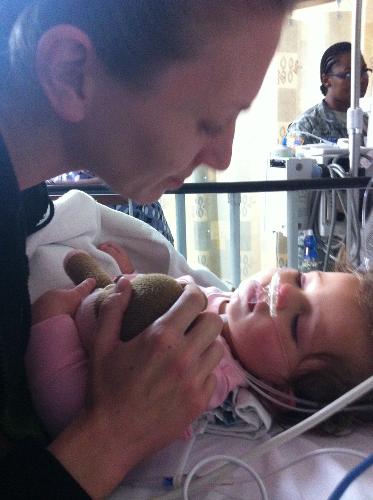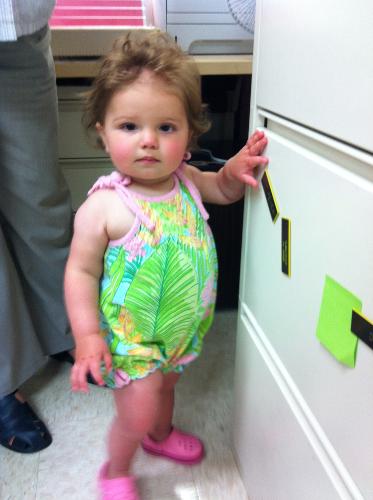 Gaining Weight and Losing Hair
By Cezanne Brianas — Jun 16, 2012 6:13am
With the steroids, the nurses told us it's unavoidable that Melania will gain 10-15% of her body weight. Well, it's happened:) It's all face and belly which is what is expected. Poor little thing already had a big belly. Now, her center of gravity is really off. But, only 3 more days of steroids!! She hasn't been herself for weeks. She doesn't sleep well at all and we are blaming everything on the steroids. So, will we get our sweet girl back? We sure hope so. The nurses told us that it doesn't seem normal now and that it will get back to some sense of normal and that her sweet personality will return. I won't lie, we are a little afraid that it won't. We will see.
Melania started losing her hair about 2 weeks ago. She has so much hair that no one else notices but us. Her hair might only thin out and not fall out completely. We will see. Some kids don't lose their hair for months into therapy. Melania's is thinnest in the front, but again, no one notices. Yesterday a stranger just commented on how much hair she has. As a nurse, losing her hair seems so trivial. As a mom, it makes me cry. I guess because it's an outward sign that she has cancer. We have never seen her bald. She was born with all that hair and never lost it. I'm sure there is a perfectly round head under there!
Some days Melania shows us her happy, sweet side in between tantrums. Other days, we don't get to see that smile. It's one day at a time and one night at a time right now. One of our morning walk buddies said the most impacting thing to me. He shares a strong faith in God and I told him to have a good day. He said, "They are all good, we just don't always understand them." Isn't that the truth! I'm faithful that God is taking care of Melania and taking care of Chris and I.
Next step....bone marrow biopsy on Tuesday and intrathecal chemo. We expect Melania's bone marrow biopsy to come back negative for leukemia. That puts her in remission. From what I understand, it's not getting in to remission that is hard for leukemia patients, but staying there. That's why therapy is 2-3 years to keep those sleeping leukemia cells from waking up!
She did it again!
By Cezanne Brianas — Sep 20, 2012 4:44pm
We've had a great 10 days (for the most part) and today, as we expected, Melania's counts were great! Melania had a lumbar puncture for intrathecal Methotrexate and IV Vincristine and a higher dose of IV Methotrexate. The day went really smooth. Melania even slept after her LP????? She woke from sedation fussy which is normal. But, we saw her eyelids getting heavy and she went back to sleep for almost an hour! That was a nice treat! She woke up and ate an entire banana and yogurt. She was happy for the most part but ready to go home. We made it home in time to play, see the neighborhood cats, push her baby in the stroller around the neighborhood, have dinner and go to bed!
Thank you for all the love, prayers, and support! The next scheduled day is Oct 1st for the same IV chemos. If we complete that day, we will be finished with this phase!!!! The next phase is really tough and is 8 weeks long. It's as tough or tougher than the first phase after diagnosis. We are doing some preliminary plans for that time too!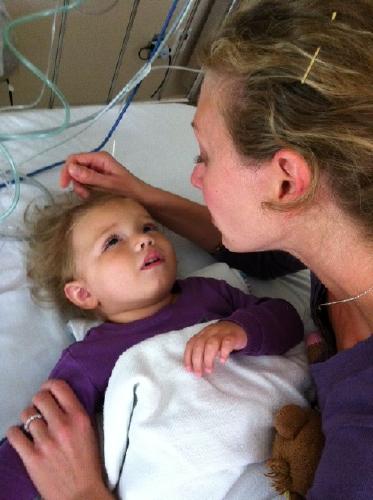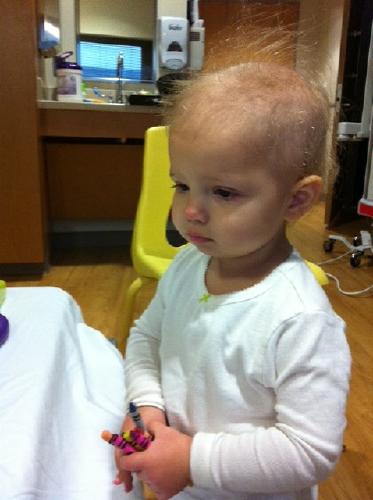 We're home!
By Cezanne Brianas — Nov 18, 2012 5:13pm
Surprise! Not what anyone expected, but we are home right now. Yesterday was a better day except Melania's port wasn't working well. She can receive her medications through it but can't get enough blood to draw back to draw labs. They couldn't draw Melania's blood so we didn't have her counts. No one thought it was a big deal to have the numbers since her ANC was 0 the day before. After doing a couple of things to help Melania's port work, they eventually took the needle out and reinserted another needle and it started working. Melania's bloodwork was drawn at 5pm yesterday evening. This morning we found out her ANC was 100. From 0 to 100....GREAT! That was a surprise. Her labs were drawn this morning at 6am....just 13 hours later and her ANC was 468!! We had no idea and were mentally planning for another 4 night stay in the hospital. But, during rounds, our very sweet doctors came by with huge smiles on their faces and said...."do you want to go home?" That was music to our ears and especially Melania's who said "home...home" for 1.5 hours until the paperwork was complete!
Yesterday we saw the sparkle come back in Melania's eyes and her temperature went down to 98s where she usually is. Her appetite increased yesterday and was great today. She is clearly feeling better! Melania's blood cultures have been negative for 5 days and today they throw them out. So, this seems it was a virus but with no definite symptoms.
Melania has shown many times that it takes her little body a bit to recover, but when it starts to recover, it does it quickly! We are so proud of that little body!! The rising counts are a little bittersweet for Chris and me. Everyone (doctors, nurses, and us) have anticipated that Melania will NOT make counts on Tuesday and would have a 1 week delay for the next section of chemo. That's what we want. We want to give her poor sweet body a little more rest. Plus, we want to recover from being in the hospital, etc. But, with these rapidly rising counts, now we expect she just might make counts!! So, Tuesday we go and find out....
If she makes counts Tuesday morning (ANC of 750), she will receive a lumbar puncture for intrathecal chemo, 2 IV chemos, and oral chemo. We will stay at the hospital for IV hydration and then come home. But, Wed, Thurs and Fri, we give Melania shots of chemo at home. She will start oral chemo and continue that for 2 weeks. Then, the following week (tues, wed, thurs, and fri), Melania gets the same shots of chemo. This is another whammy phase and yes, we are expected to end up right back in the hospital! Because it's back to back tough phases, she might not recover as quickly and we'll likely be in the hospital longer.
Thank you for your prayers! They worked:) Chris and I did pretty well in the hospital this time. We came home and unpacked our bags. We're doing lots of laundry and then we'll pack our bags again so they are ready!
Maintenance!!
By Cezanne Brianas — Feb 12, 2013 5:51pm
We've made it 2 entire weeks at home. Melania's been up and down these past 2 weeks. Nothing specific, but just off for a few days at a time. One day she had this sadness about her. It broke our hearts. The past 2 days she's been off. We weren't sure what today would bring. But, this morning she woke up with the energy of a fun, healthy, 2 year old. She was such a trooper this morning as we played until we had to leave the house at 6:30am. Once we were in the car is when she asked to eat?? She took the news that she wasn't able to eat pretty well until later....then, she was very grumpy:(
Melania made counts....792. Her ANC had to be at least 750. So, she just made it. We headed to Pediatric Sedation for her lumbar puncture and intrathecal Methotrexate. Once she woke up and had a few bites, we headed back over to the Heme/Onc clinic for IV Vincristine, and all the other at home meds. Melania started on steroids today and will continue for a total of 5 days. She also started one daily oral chemo (Mercaptopurine) and has oral Methotrexate to take but only on Tuesdays. Plus, Zantac for heartburn from the steroids and her usual 3 day a week antibiotic. Oh, and the laxative and the zofran to prevent nausea. Let's just say, I've made a chart!! This from the mom who didn't like to give Tylenol just 9 LONG months ago:)
We ventured out this weekend and had breakfast at a coffee shop. I had my Clorox wipes to wipe down the table:) I don't embarrass easily especially when it comes to my baby girl. Well, Melania just had the absolute best time. She kept saying, "look, there are so many people, mommy and daddy!" Poor thing doesn't get out much...there were 3 tables at 8am on Sunday morning. Now, she loves to go to the "store". She keeps asking to go to the coffee store to buy a muffin. On our way home today, we went to a bakery and got her a muffin. She was so happy!
We are so thankful that Melania has made it to Maintenance Phase. Today was a big day, but she doesn't have to do all of that again for 12 weeks! We will just make chemo a part of our day at home and hopefully it becomes routine. The struggle is that it has to be given 2 hours after eating and 1 hour before. We'll figure it out!
Please pray for Melania and steroids. I don't think I had the energy or emotional stability to explain how difficult things were for all of us in November when Melania ended up in the hospital. Let's just say, I was relieved to be in the hospital where she could be monitored by the staff. For anyone who has a chronically-ill child and wants to be in the hospital, it means they are scared! We hate being there usually!! Most of the difficulty was from doxorubicin, but part of the difficulty was steroids. One of the nurses has told me that Melania has an exceptionally hard time with them. Twice Melania has had a 4 hour screaming thrashing tantrum. The last time was a day after stopping steroids. She might have been calm 10 minutes total in the 4 hour span. After 2 hours, we start to wonder if we are missing something. We end up in the ER and she gets thoroughly examined. Thankfully she calmed down at the 4 hour mark and didn't get sedated to be evaluated for a brain bleed. So, we are prepared (not really) to give it 4 hours before we take her in. Unless, of course, something else seems wrong. We are hoping that the 5 day course will be too short to cause that tantrum, but she seems to do something different every time and keeps us on our toes!
Thank you for your prayers and support for us and all the precious children and their families fighting cancer!
P.S. Melania's eye lashes are back and her hair is starting to come back. Yay!!
"Therefore we do not lose heart. Though outwardly we are wasting away, yet inwardly we are being renewed day by day. For our light and momentary troubles are achieving for us an eternal glory that far outweighs them all. So we fix our eyes not on what is seen, but on what is unseen, since what is seen is temporary, but what is unseen is eternal." -2Corinthians 4:16-18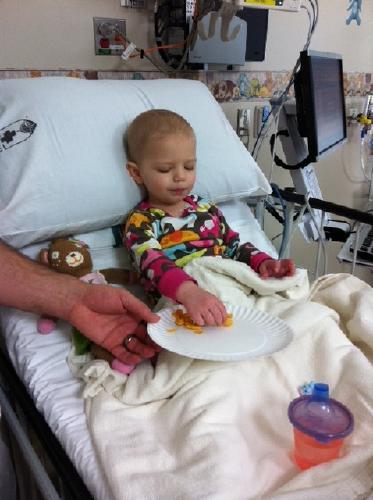 Thank you
By Cezanne Brianas — Mar 12, 2013 5:59pm
Thank you to all my dear wonderful friends and family who reached out to me today. Today, I was at peace. I am so thankful for that comforting sense of calm. 13 years ago today, I held my mom in my arms as she died from breast cancer. One of my biggest fears when she died was that I would forget things about her. But, I haven't. Even though today is the anniversary, I remember her everyday. I know that peaceful feeling was from God, but I'd also like to think God let my mom play a part in it too.
Melania has had a rough week. After the bug last Sunday, she got a nasty cold. For those of you who know me, I am very protective about Melania getting sick. Well, she hasn't had a cold since she had RSV last June!! Let's just say, she didn't know what was going on! The coughing, running nose, and inability to breath made her cry for 4 days and nights. I've said she can handle cancer and chemo better than a cold! I think she might have turned the corner today. Oh, I hope!
Melania checked out great at the doctor's today. Her ANC is 1150! I was surprised. I thought it could be low given she's fighting two viruses back to back. If it was too low, they'd hold her chemo until her counts came up. She's continuing on the same doses and they said we don't have to come back for 4 weeks!!! Whoa! I don't know. That sounds crazy. We'll see:) The only thing to keep an eye on right now is a rash on Melania's face which could be sunburn? And her liver function tests are elevated. One level is 3 times the normal. This is due to the chemo, but I'm told this is common and at this point they don't do anything about it.
So, no news is good news here! Thank you, again, for all your prayers and support! We are truly looking forward to spring and hoping to get Melania in some activities!
JoeJoe
By Cezanne Brianas — May 1, 2013 7:39pm
Today, I attended a funeral for a precious 4 year old boy who lost his battle to cancer. I've asked for your prayers before for this family. They are an amazing family with 8 precious children. Their faith in God is strong. But, please pray for them as they move forward. The funeral was beautiful. Selfishly, I just had to hug JoeJoe's mom. My heart is just broken for the entire family.
It was nice to see our oncology team present at the funeral. At least 15 people from the hospital were there. Melania and JoeJoe have the same primary oncologist. He hugged me and asked how I was doing. Then, we shared pictures and videos of Melania and his granddaughter who is 1 month younger than Melania. I'm truly touched and feel blessed to have this healthcare team caring for Melania.
Last week was difficult as we anticipated JoeJoe's passing. I spent a lot of time on my knees begging God for a miracle. The picture is Melania on her knees praying for JoeJoe.
One of the memorial cards read:
God saw him getting tired and a cure was not to be. So He put His arms around him and whispered, "come with me". With tearful eyes we watched him suffer and saw him fade away. Although we loved him dearly, we could not make him stay. a golden heart stopped beating, hard working hands to rest. God broke our hearts to prove to us, He only takes the best.
God Bless.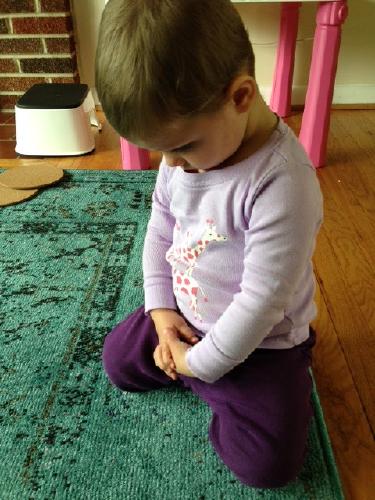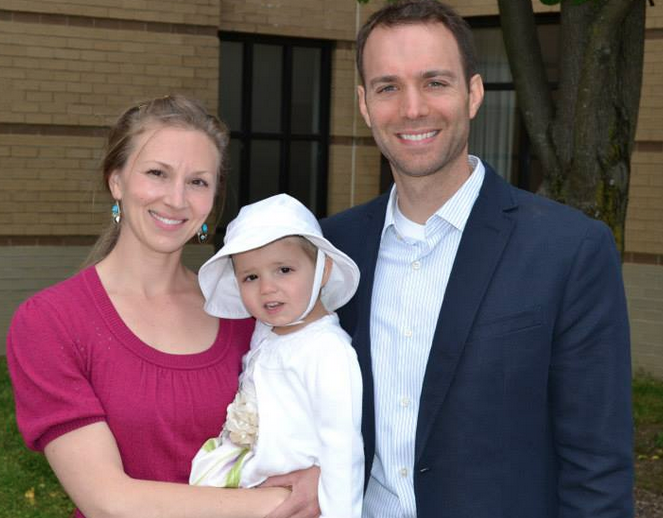 15 More Months
By Cezanne Brianas — May 5, 2013 11:00am
12 months of chemo down, 15 more months to go....
RECOVERED!
By Cezanne Brianas — Jun 18, 2013 12:03pm
oh my goodness, this morning was stressful. i couldn't hold back tears in anticipation of today's news. i knew it was either melania's counts were recovered and we weren't questioning relapse anymore OR we were moving forward with another bone marrow biopsy to test for relapse. Praise the Lord, melania's counts recovered!! ANC about 1900!!
this past week has been good overall. it started off a little rocky. melania was definitely off and fussy. we knew she didn't feel well. but after a couple of days, she seemed great. we had a lot of fun with great friends and family.
walking into the clinic this morning was tough. the support there is great though. one nurse said, "she's going to do it today!" i just cried. melania said "it's ok mommy. you are crying?" then, i got myself together and talked with friends and played with melania. then, that same nurse brought the good news before she could even tell the doctors. she said "it's good!" here's a surprise...i cried. this time melania stroked my face saying "it's ok mommy" and i told her they were happy tears because i love her so much. then, we took a victory lap around the floor in the kangaroo wagon!! we had to wait for melania's chemo orders and to get her chemo, so we hung out a bit. it's a little funny that our "good" news means melania is back on chemo today!?!
so, the plan from here is to cut melania's 2 oral chemos down to 50% of the previous dose. we will recheck her counts in 2 weeks. if she still has good counts, they will increase 1 of the chemos a little bit, recheck, and continue alternating the chemo to increase as long as melania tolerates it.
again, thank you for the prayers and support. i ask for prayers for all our friends who are fighting pediatric cancer. we got to see a lot of friends this morning at the clinic. i love them all but wish we met a different way.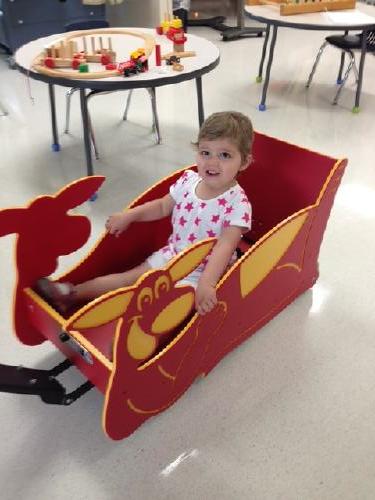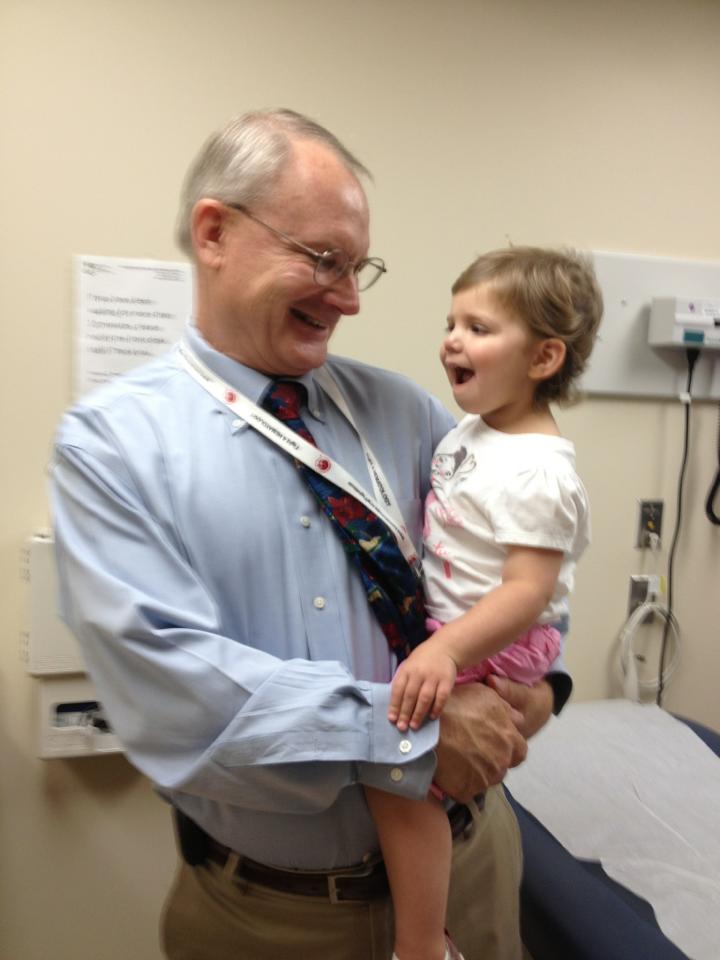 Life Saver
By Cezanne Brianas — Jul 26, 2013 1:07pm
It took 14 months of patience and persistence, but Melania's oncologist finally got to hold her and carry her around the clinic. A happy moment for all of us. A nice reward for saving her life! We love our oncology team!!
Infusion
By Cezanne Brianas — Sep 23, 2013 11:32pm
This is what a doctor's office looks like when we're in it for 5hours! Long infusion. Can't leave the room bc we're sick. Mommy's pulling out all the tricks!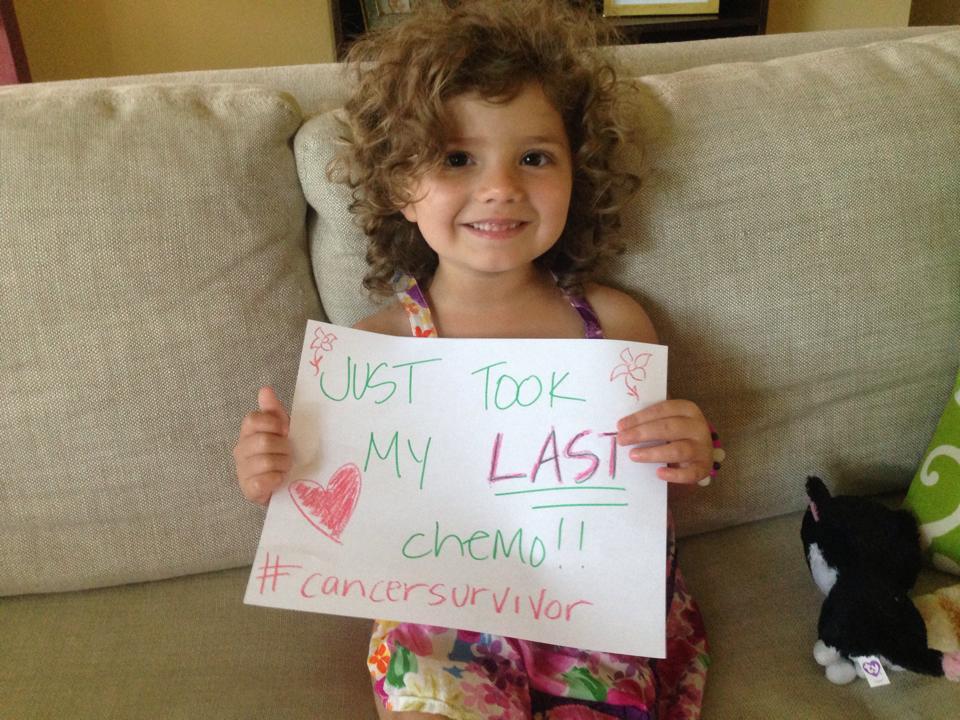 Last Chemo!
By Cezanne Brianas — Aug 21, 2014 4:30pm
Praising God for His healing hand, infinite strength, and gift of peace!
Celebrating Another Milestone!
Aug 21, 2016 8:24am
You go girl. And keep going.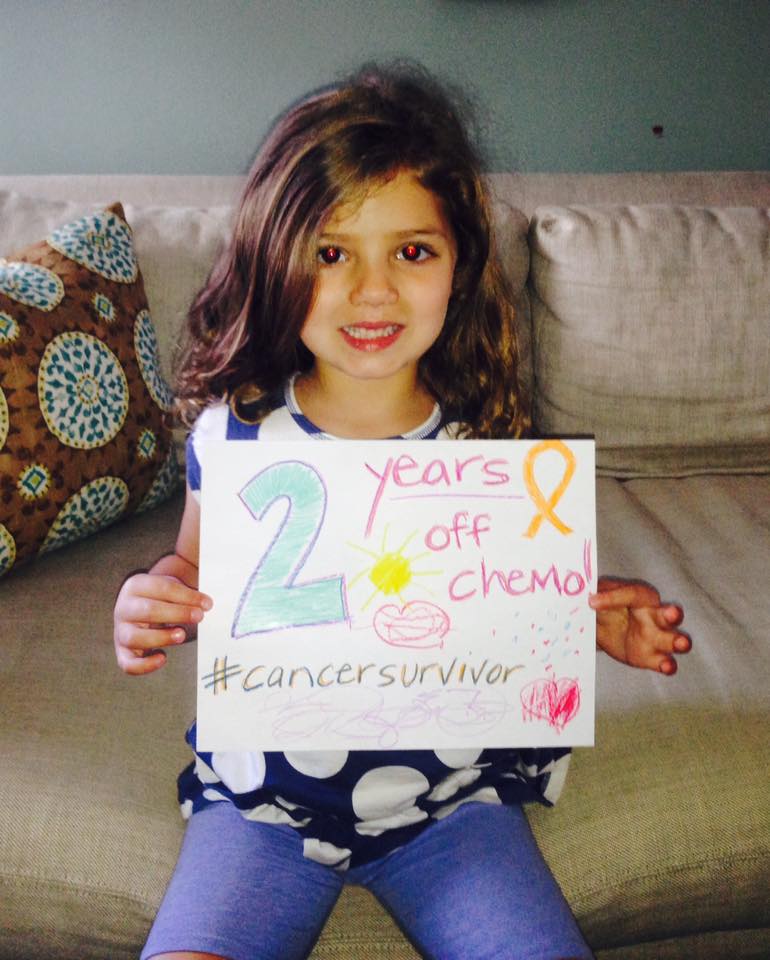 The Most Unselfish Thing You Can Do
Now many folks take their health for granted. Me included.
But remember that your health is truly a gift. And your body is a vessel to make the world a better place.
You must take care of yourself first in order to care for others.
I was reminded of this universal law on a recent plane ride.
The flight attendant said...
"In case of emergency, an oxygen mask will drop from above. Place the mask over your nose and mouth before helping someone else."
Problem is many "busy" people never prioritize smart training, portion-controlled nutrition, getting enough sleep, or managing stress.
And if you are too "busy" to care for yourself first, it's like being in a smoke-filled airplane without an oxygen mask.
You will be helpless to others until you help yourself first.
Top FOUR Reasons You Fail at Dieting, Exercising, and Losing Bodyfat
1. Information overload. More info is not the answer. In fact, I believe more information can HOLD YOU BACK from losing bodyfat and adding muscle.
2. Paralysis by analysis. Because there is too much information available, most people are more confused now than ever before.
Folks are majoring in the minors, experiencing goal hijacking daily, chasing conflicting goals at the same time, and there are simply too many cooks in the kitchen — which is a quick formula for failure.
3. No blood in the game. When was the last time you really put something at stake?
My BEST results have ALWAYS come with a price.
When I hired a coach, my body changed faster. (Yes, even coaches need to be held accountable.)
Why?
Because I could not afford to commit without experiencing a positive return on investment. Free programs are self-sabotaging because you have nothing at stake if you fail.
4. Generic programming. Getting a bunch of information at once (consider reading a book or watching a few dozen workout videos on YouTube) ironically makes learning and doing much more difficult.
Because none of the information is organized or customized to your personal goals, body type and needs, resulting in uncertainty of the methods and a poor effort in the gym and kitchen.
Generic programming created for the masses will produce zero results or generic results at best.
It's time to get focused on your #1 goal over the next 14 days. It's time to train smarter, not harder. I'll keep you focused on one thing and one thing only — the very next step, which is the MOST IMPORTANT factor to losing fat and building calorie-torching muscle.
As we move from phase to phase, you'll discover the workout and nutrition programming most effective for your body type. As your body changes, don't be surprised if you experience a boost in confidence, and maybe even a promotion at work.
As a 14-Day Fat-Flush Client, You'll Have a Personalized Training and Nutrition Program That's Custom-Fit for You
WorkoutEngine Allentown is a results-driven and energetic fitness and fat loss workout program that includes motivation, accountability and dynamic resistance training; all designed to get you the body that you want in a safe, fun and non-intimidating atmosphere.
Every workout session is led by an experienced, certified Allentown personal trainer and is designed to be fun, supportive and challenging, while burning maximum fat, in minimum time. Personalization is key to getting the best possible results, which is why our workout programs are modified to fit your goals and individual fitness level.
But unlike working one-on-one with a personal trainer, our workout programs are done in a team setting which makes them fun, motivating, challenging AND it keeps the program tuition affordable compared to private one-on-one personal training sessions.
Every workout phase is CUSTOMIZED. Everyone has a unique training preference they respond best to. This applies to exercise selection, volume, intensity, density, rest periods and rate of progression. Plus, if you're a science buff, feel free to ask me about the science and logic behind every component of your program design so you have confidence in your workouts.
Every nutrition phase is CUSTOMIZED. Isn't it sooo frustrating when you're training hard and not sure if you're consuming the right number of calories or if your macros (lean proteins, low-starch carbs, and healthy fats) are set up properly? Good news is that will never happen again. Instead, imagine waking up every morning and heading into the kitchen to see your meal plan telling you exactly how much and when to eat.
Every meal is customized to your level of body fat, eating schedule, food preferences and goals. Plus, you'll be able to get every single question you ever had on nutrition answered, so you'll never doubt another nutrition decision again.
Why You Need an Experienced Coach
See, I've delivered over 100,000 workouts, to satisfied clients around the world.
Some clients have lost 10 pounds of body fat and added lean muscle. Other clients have completely transformed, losing 100 pounds of fat and getting healthy.
I've written books and published articles on the exact principles we use in our cutting-edge body-transformation programs.
You may know someone who is struggling to lose body fat and get in shape. I bet you know somebody like this who has also tried to lose weight on their own... and failed multiple times.
You see, some folks think they are a certified fitness expert because they know how to walk on a treadmill. Other unsuccessful folks think they're a nutrition guru just because they can chew their food.
Others are penny wise and pound foolish, knowing that they need to invest in coaching, yet are too cheap and cynical to take action. They have naysayers in their lives who are just as unhappy and overfat, convincing them to skip the coaching... and, as a result, stay as miserable as they are.
What a shame.
Truth is, you need an experienced coach. A smart coach who knows exactly what to do to help you achieve your goals.
Please Read This 11-Point Checklist Before Applying Below:
Yes! I understand there is a minimum 14-day commitment to get started and I can cancel anytime afterwards.
Yes! I understand that my training and nutrition plan will be specifically tailored to my realistic goals and deadlines.
Yes! I understand Coach Joe will personally answer any and all of my questions in person or via email within 48 hours.
Yes! I understand Coach Joe expects 90% compliance from me.
Yes! I understand Coach Joe will be honest with me, sometimes it may be what I need to hear, and not necessarily what I want to hear. He will always have my best interests at heart to ensure I am extremely happy with my results.
Yes! I understand that I must make myself available to train 4 times per week for MAXIMUM optimal gains and workouts are 45 minutes per session. My coaches will always work around my current physical limitations.
Yes! I understand the investment ($397) is about the same price as a few hours with a personal trainer (likely someone who doesn't guarantee my results). Currently, the investment is as affordable as it will ever be.
Yes! I understand that I will be training with professional coaches who do not accept whining, excuses, substitutions, or complaints. I understand my coaches will only accept EFFORT, DEDICATION, DRIVE, DETERMINATION, SUCCESS, and RESULTS.
Yes! I understand that my current training and nutrition theories might be challenged. I understand that getting results often goes against what society tells me I should do for health and exercise. I understand my coaches will answer any questions I have about the science and logic of my programs.
Yes! I understand that Coach Joe is every bit as driven and dedicated toward me achieving my results as I am.
Yes! I am sure that I can afford to invest $397 for this 14-Day Fat-Flush Program and believe that this investment will pay me back ten-fold in the years to come. This is something that I really want to do now, and I will gratefully invest in my confidence, my health, my future, my education, and my life.
With this understood, please accept my request to apply for the 14-Day Fat-Flush Program.
We Will Donate $100 From Your Membership Tuition to Support Pediatric Cancer Foundation of the Lehigh Valley, Inc.
SAVE $100! Apply Below And Instantly Receive Your Discounted Tuition Of Just $497 $397... PLUS the Bonuses
Hurry! $100 Discount Expires in...
Check Out What Some of Our Coaching Clients Have to Say...
Hi, my name is Lisa Kappes.

I am a 49-year-old woman filled with lots of love and passion for life.

I am the Assistant Executive Director for the Pediatric Cancer Foundation of the Lehigh Valley (PCFLV).

Over the past few years I have so busy caring for other people, that I neglected my own health and well being. My excuses were always the same: not enough time due to a full-time job and not enough energy due to my Crohn's Disease. It was so easy to rationalize why I had been neglecting to take care of myself properly.

My weight became an issue and, while I felt happy about a lot of things, I was definitely not happy about my physical appearance and how my weight was affecting my overall well-being.

I am a very active member of the Lehigh Valley Community and know a lot of health-care professionals and many people in the wellness industry. It is through my work in our area that I meet a lot of these generous fitness-minded people.

One evening I was talking to my husband, and also a friend, about the changes I needed to make. The next day I happened to meet with Joseph Arangio, a world-renowned strength and conditioning coach, who happens to operate a body-transformation facility in Allentown, Pennsylvania.

Coach Joe was kind enough to make a donation to PCFLV in order to help local families that have a child with cancer. It was a blessing to be able to connect these two things together.

What I didn't realize on that day, when I met Coach Joe, was while I was doing many things to help others, that was the day I would help myself too. Not to be overly dramatic, but this day would change my life for the better.

Joe and I spoke at length about my job and about my interest in getting back in shape. I expressed the inability to get myself started because I was in a rut. Joe's knowledge and his kind and caring philosophy about health was very appealing to me.

I liked that he not only cared about one's physical self but also one's mental being and nutritional standards. After many years of being complacent, Joe sparked the fire in me that I needed that Friday -- during an especially tough time in my life.

The following Monday, although waking up at 6 AM was not in my repertoire, I was dressed and ready to begin the 14-Day Fat-Flush, a jump-start program, at Joe's training facility in Allentown. The program includes four workout sessions per week, along with smart nutrition and recovery strategies. And of course I was under the supervision of an experienced coach!

I really thought I would struggle with the training and that I wouldn't be able to work out because of my lack of exercise over the years. I wound up proving to myself that I was stronger than I thought.

Joe was able to custom-tailor a program for me that was perfect -- not too hard or too easy.

After just two weeks of training with Coach Joe, I learned these EIGHT amazing things about myself...

1. If you have a bad habit, but you start a smart total-body training program, you will develop better habits. And habits are very important. I used to think I needed to sleep and work and didn't have time to train. This bad habit was easily reversed by waking up a few hours earlier and prioritizing my workout first thing in the morning. This new habit gave me the energy I was missing to work more efficiently during the day. Strangely, the morning exercise program gave me more energy and I was not as tired throughout the day. It's important to say I am not a "morning person" and rarely wake up before 6AM... but that's changed!

2. Along with learning better habits, I discovered that quality sleep is very important. To manage getting up earlier for my workouts, I started going to sleep a little earlier at night and eliminating things that could keep me awake, like watching television before bed. Being accountable to a morning workout helps motivate me to get out of bed in the morning.

3. My words are very powerful. So saying negative things like, 'Crohn's Disease is robbing me of strength and will,' was actually holding me back. But when I start the day with a thankful heart and positive words, I am stronger than my disease. Being thankful for the good things in my life, like my loving husband, family, and fulfilling career. Now I simply speak positive words like, 'I am strong today,' no matter how I feel.

4. Keep a positive mental outlook. The thoughts I choose are very important in my ability to succeed. My habit is to imagine I am in control of my ailments. My disease does not control me.

5. Follow smart nutritional habits. I made myself aware of what I was eating by starting a food journal. Part two of that is being consciously aware to make better choices and prepare your meals ahead of time. I lost 3 lbs. in one week simply by making better choices, being prepared with my meals, drinking more water, getting a good night's sleep, and by following a structured (not random) training program of 45-minute workouts done 4 times each week.

6. Drink more water. Plain water. Drinking water throughout the day definitely made me feel more full and healthier. Coach Joe said something to me: 'Hunger is often thirst in disguise.' That was a powerful idea. I think I was walking around dehydrated for years and something as simple as drinking more water and choosing water over Diet Cokes made me feel more balanced.

7. Everyone needs a coach. There may be many people in your life who have good intentions of helping you; however, it's critical to find an experienced coach with a track record of success. A professional coach that actually coaches people for a living--not as a hobby. I was impressed to hear Coach Joe has delivered over 100,000 workouts to clients in the Lehigh Valley and around the world. He's been coaching for 20 years! Joe continues to publish articles in some of the world's top fitness magazines. And he's written books too (google 'Joseph Arangio' to see what I mean).

Also, if you aren't motivated to make a change (sometimes the right coach can boost your motivation), you will have a tough time setting goals, deadlines, and then taking action. The right coach will create the accountability you need for success. And you must trust your coach to share your weight, your food intake, your struggles, and your time with 4x a week. Most importantly, you need a coach who sincerely cares about you, keeps you safe, makes the training fun, and guarantees your results.

8. I learned that while I was afraid and thought I couldn't exercise and change my bad habits... my fears were irrational. I have replaced my bad habits with new healthy habits.

Again, my job creates an environment where I help families who have a child with cancer. This is a blessing to me. I am good at my job but I was not good at 'me.' I am now doing both.

If I can help one person transform from an 'I can't' person to an 'I can' person, when it comes to your training and health, then I will feel especially blessed.

I am confident Coach Joe will have continued success with others, thanks to his bright and inspiring attitude.

One goal of writing this is to share my positive experience so I might help others get healthy. Maybe someone reading this feels like they are too busy and too tired to take care of yourself first. The truth is, with the right coach and a proven plan, you CAN make a positive change.

As Coach Joe says, 'Perfect never happens.' Don't wait for the perfect time to get healthy. Now is the time!

Please feel free to reach out to me if you are struggling like I was. I will help you in any way I can!

Fondly,

Lisa

Lisa Kappes,

Assistant Executive Director, Pediatric Cancer Foundation of the Lehigh Valley
"There's nothing I can't do. I'm in better shape now than when I was 18 years old."

Ray Ferraro,

Lost 88 pounds of bodyfat
"I needed something positive in my life. That's why I contacted Coach Joe. This stuff does work. Believe in yourself and trust that you will see results."

Ed Ziegenfuss,

Lost 70 pounds of bodyfat
"If I can lose 35 pounds, I can do anything. Just start it and do it. I feel so confident and so positive. I like myself now."

Renee Lentz,

Lost 35 pounds of bodyfat
"I can not begin to express my gratitude to you and Sharon for all that you have done for me. I have maintained a substantial weight loss (at least 40 pounds to date), I am able to do some exercises that I couldn't do even as a young athlete (more than 30 years ago), and I have much more energy."

Jodi Scanlan,

Lost 40 pounds of bodyfat
We Will Donate $100 From Your Membership Tuition to Support Pediatric Cancer Foundation of the Lehigh Valley, Inc.
SAVE $100! Apply Below And Instantly Receive Your Discounted Tuition Of Just $497 $397... PLUS the Bonuses
Hurry! $100 Discount Expires in...
If You Need More Incentive, I've Got TWO Incredible Bonuses for You...
Bonus #1: Discovery Call
Hold your horses… before you invest your hard-earned dollars and we invite you to join the 14-Day Fat-Flush Program, we need to know that you're going to be a good fit.
In order for that to happen we need to get on the phone together for a Discovery Call.
Here's how the discovery call works:
You'll get on the phone with me, Joseph Arangio, for 15-20 minutes where we'll learn about your goals, give you some ideas to improve, and see if you'll be a good fit for the 14-Day Fat-Flush group and if we'll be a good fit for you.
Before we get on the phone, I want to make sure of two things…
1) That you can afford $497 $397 tuition for the coaching membership.
2) That you can show up to all eight coaching sessions over the next 14 days. For example, you choose to attend on Mondays, Tuesdays, Thursdays, and Fridays at 7:00AM. Research shows that you will be more likely to succeed if you prioritize your workouts.
Now, if you answered "YES" to both of those then submit your application below to schedule your FREE Discovery Call.
Usually $97
Yours FREE

Bonus #2: Body-Diagnostic Session
Next step, after your Discovery Call, is to schedule a private training session with one of our expert coaches. This 45-minute session will be at our exclusive, member's-only studio in Allentown, PA.
We'll discuss your goals, deadlines, and the exact steps you'll need to follow in order to meet your goals on deadline.
Usually $197
Yours FREE

14-Day Money-Back Guarantee
Simply put, we guarantee your results.
If you are unsatisfied with your progress after 14 days, we will refund 100% of your tuition. That's how much we believe in our body-transformation system.
All we ask is that you follow these five rules:
1. You will give the program an honest try.
2. You will complete at least 4 workouts per week with us, over 14 consecutive days.
3. You will follow the custom-tailored nutrition plan and get quality sleep.
4. You agree to keep a daily journal.
5. You will not cheat us.
Fair enough?


And if you need to "think about this," it's probably not for you. I'm looking for committed folks who, at the snap of a finger, realize the rare opportunity they're being given here, and are 100% ALL IN, no reservations.
Why? Because I'm 100% committed to YOU as your coach and I expect nothing less in return.
To your success,
P.S. Now I want you to take a moment to think about all of the folks in your life that are struggling with their weight.
Your friends, family, co-workers that are too embarrassed to put on a bathing suit because they are fat, out-of-shape, and suffering from low self confidence...
...the people in your life that are at risk of heart trouble, diabetes, and an early check-in to the local nursing home.
The craziest thing is that all of the things that are holding you back from living the life you deserve are AVOIDABLE.
All you need is...
*positive mindset
*smart training program
*done-for-you nutrition
*quality sleep
*strategies to manage stress
*an experienced coach
You and your friends can get all of this and more from a program like the 14-Day Fat-Flush.
There's no need to struggle and fail alone when you can just model a done-for-you blueprint that has been used by over 100,000 folks in the Lehigh Valley and worldwide.
If you agree with me, please pass this along to the people you care about.
See You On the Next Page!
WorkoutEngine Allentown
"The Lehigh Valley's Results-Guaranteed Body Transformation Club"

Our Location:
725 North 15th Street
Allentown, PA 18102